White Collar Legal: Proficiently Addressing Corporate Legal Needs with Innovative Engagement Models & Automated Solutions

Companies develop enduring relationships with law firms on the basis of personal and institutional trust. Legal structure –earlier dominated by pyramidal, profit per project model –is now being replaced by a flat corporate structure. A more business-oriented approach to legal delivery, one that is closely aligned to consumer financial and enterprise objectives is what these corporations prefer. As technology, process, and globalism have embedded into legal delivery, the legal industry is becoming more diverse, collaborative, innovative, and responsive to consumers in corporate segments. Predicting this trend early in 2014, White Collar Legal LLP, a corporate law consultancy, established relationship with its clients on retainer model as a growth partner providing the best suited legal guidance without sacrificing on quality, where clients pay a nominal amount over a longer period, that too based on its performance, which speaks volumes about its competency.

This transparency and accountability has enabled the firm to grow its revenue at a 150 percent rate annually and acquire over 350+ clients across Pune, Mumbai, Bangalore, Gujarat and Gurugram& retain clients for a longer engagement, which is quite impressive for a 2014-founded firm. Thanks to this tremendous growth, White Collar is now shifting its focus towards scrutinizing the social enterprises (enterprises creating new source of employment & huge impact in neglected areas) in remote areas and investing in the right ones with 'Aavishkaar' – a Rs.20 crore fund its represents. Its monthly engagement model is an added benefit for startups with lean model seeking flexible monetary commitments, for half the cost & twice the efficiency of an in-house team. "Being a youthful firm, we connect with our clients, especially startups, on a real life basis, not just on intellectual level," asserts Kunal R. Sarpal, Founding Partner, White Collar Legal, who is a first generation entrepreneur himself.

Counseling Clients for Compliance
It's perhaps not surprising that corporates constantly focus on improving their legal department's performance; providing assistance to such enterprises White Collar uses its extensive pool of legal and corporate knowledge to provide registration, valuation and funding solutions for startups & enterprises scaling up their expansion, and gauge the result and business impact.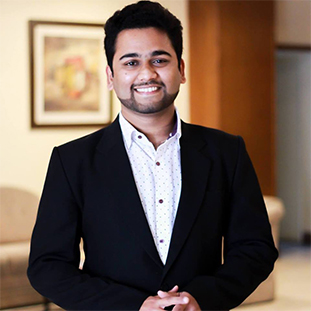 White Collar has created its own ERP solution for assignment progress tracking, invoice management, automation of redundant tasks and most importantly, due date tracking
Under its plethora of services, starting with registration of yearly and event based compliance, mergers & acquisition, due diligence and drafting documents, the company also aids organizations seeking foreign investment that further involves FEMA & RBI compliance. For companies soliciting corporate governance & guidance regarding structuring of CSR policies, White Collar provides social oriented business solutions helping these firms comply with social onus. "Since Indian companies are receiving foreign investments, foreign investors expect international standards at everything. Many Indian companies, earlier following joint family system, are calling us onboard to make the company process-driven and create a proper structure so that they can take a step back & make the company professionally run," elucidates Kunal.
Be it a proprietary software algorithm or in-house built process, it's the intellectual property of the company that empowers it to become a unicorn. Learnt this from the stories of Uber & OYO in 2012, White Collar has built immense prowess in this area, which allows it to provide niche and extremely quick service in assisting the clients protect their patents, copyrights and trademarks, which is crucial in a country with snail-paced government process. Having established tie-ups with attorneys in more than 15 countries, the company also gets its client's IP approved internationally. For instance, one such tie-up played a major role in getting approval for the international trademark application of one of its bigwig client in Dubai.
Wielding Technology

Technology's disruptive impact on other industries is now being felt in law. The human-intensive legal delivery model is being replaced by a digitized one, scouring which White Collar has created its own ERP solution for assignment progress tracking, invoice management, automation of redundant tasks and most importantly, due date tracking. Kunal states, "Besides having a CRM to serve client better, we have also bought an internal cloud space wherein all the user data is saved. We are strict to changing the password & give very restricted access on a need basis to our employees". While the company partners focus on strategic tie-ups with professionals dexterous in corporate law, discounted cash flow valuation or intellectual property, the secretarial compliance is looked after by the team, thus making the company greatly sought after.

A company driven by certified legal professionals following internal reporting process for regulatory compliance, White Collar foresees touching Rs.1 crore revenue mark in the coming year. As White Collar now knows the recipe to proffer top-notch legal service, it aims to expand its presence to different geographical locations PAN India so that everybody gets access to quality legal service. Hence, it is partnering with lawyers having local expertise to expand its presence through a franchise model, which will be launched in Bangalore by February 2018.

Key Management:

Kunal R. Sarpal, Founding Partner
While elevating White Collar Legal to upper echelons with his corporate law expertise, Kunal is one of India's youngest lawyers practicing Company Secretaries and an expert speaker at the Ministry of Sports and Youth Affairs.

Offices: Pune & Bangalore

Offerings:

Registration & Licensing
Secretarial, Legal and Due Diligence Audits
IP Registration & Compliance
RBI & FEMA Compliance
Corporate Law & Taxation Advisory
Drafting; Verification, Searches & Certifications