In today's highly competitive environment, enterprises are looking for significant data and transparencies in their business spend and prefer solutions offering deep rooted insights into their expenditure. The motto is not just to enhance the existing process but also to leverage analytical capabilities and visibility that help businesses drive efficiency, forecast and plan better for corporate finances. Enterprises are increasingly seeking to institute financial discipline within their organization to ensure effective expense management solutions that streamline purchasing, and simplify reporting and reconciliation processes for business related expenses.

Bangalore-based Happay was incepted with a vision to render Enterprises and SMEs real-time visibility and control of all business expenses through one single platform and help them manage expenses digitally and efficiently. The company deeply understands the needs of Indian businesses, and further addresses them through its all-in-one Business Expense Management Software. "During our interactions with enterprise clients, we noticed that enterprises now have dedicated budgets for expense management solutions and are actively evaluating such softwares as part of business process management (BPM) initiatives," avers VarunRathi, Co-Founder & COO, Happay.

A full stack business expense management solution is very difficult to pull off, but Happay has built and scaled it successfully. The company had launched its digital solution at a time (early 2015) when Indian businesses were taking baby step towards digital and cashless payments. Being a first mover in the category, the company was able to create the initial awareness and education in the market and set the foundation for expense management softwares for Indian companies. The software helps companies to manage any and all business expenses, including Travel & Expense (travel requisitions, online ticketing, policies, and workflows), Petty Cash (card driven solutions for distributed office locations/branches/stores), Employee Reimbursements (digital processing of out-of-pocket employee expense claims), Employee Flexible Benefits (multi-wallet linked digital solution to manage all types of benefits including meal, medical, fuel, mobile bill reimbursements) and Allowances &Accounts Payables (digital invoice management and processing of vendor payments, in real-time, in one place).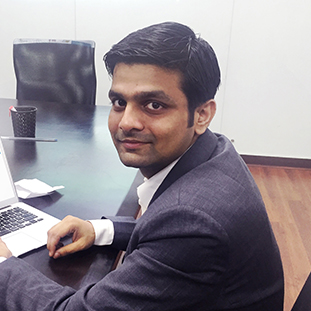 The flexible and modular platform enables Happay to deviate from the 'one-size-fits-all' SaaS solutions to cloud-based solutions that integrate with a corporate card to fit like a glove
Empowering corporates with Technology
The flexible and modular platform enables Happay to deviate from the 'one-size-fits-all' SaaS solutions to cloud-based solutions that integrate with a corporate card to fit like a glove. Furthermore, the integrated card platform merges with any of the existing systems used by the customers (such as accounting, ERP and HRMS among other) to effectively handle the cards. Corporates can pick and activate modules as per their requirements, where each module has its specific set of features helping them to manage their expenditure in the most efficient way. Besides, this unique integration enables real-time control and visibility over the spend by linking single corporate card with multiple wallets, configuring rules and logics on each wallets, restricting the wallet spend on all channels (POS, ATM and online), tracking all wallet spends on a real-time basis via web dashboard/mobile apps, loading or removing funds from wallets in a single click of a button from any device at any time, and switching on or off a wallet. Happay also automates expense report creation and approvals and makes the reimbursement process fast and hassle-free.
To live by their commitment, Happay develops highly customized solutions enabling enterprises to customize forms and fields, user roles and privileges, workflows, expense policies and system integrations.
Through these custom configurations, enterprises can tailor their platform to the unique processes, workflows and systems. Happay maintains a dedicated account manager for each corporate account, offers email and on-call customer support and has PAN-India presence for hassle-free onboarding, implementation, and training & engagement to ensure clients experience the full potential of digitization and automation in the quickest way possible. "Our clients have seen substantial improvement across their business processes after implementing Happay," proclaims Varun. Some of the tangible benefits include 10x faster processing of expenses, 96 percent reduction in paperwork, reduced leakage on false submissions, 30 percent improvement in employee productivity and 100 percent digital and cashless process.

A Trusted Partner

Being a trusted Visa & MasterCard partner with 256 Bit SSL Data security and PCI-DSS certifications, Happay follows the highest standards for online payments and fund transfers. To keep itself abreast with changing regulations, the company upholds 100 percent RBI compliance with its partner banks. With a team size of 200+, Happay has signed up 4500+ corporates including Emami, Symphony, V-Guard, Urban Ladder, Knowlarity Solutions. Happay is well funded and backed by globally renowned VC firms.

Having presence in 10+ locations, the company is planning to expand its direct sales operations across all metros and Tier I cities in India via channel partnerships. In 2018, the company has more aggressive plans in terms of tie-ups with banks and acquisition of enterprise customers.

Key Management
Varun Rathi, Co-Founder & COO
Being from business background, Varun is proudly using his skills with full gusto to make Happay the most preferred mode of payment for companies.

Offices: Bangalore (Headquarter), Pune, Delhi, Mumbai, Hyderabad and Chennai

Awards: 'IAMAI Digital Awards 2016' for Best Prepaid Card, 'Nasscom Top 10 Hottest 2015' & 'Nasscom Emerge 50 Awards 2015', 'Disruptive Employee Engagement Solutions for Corporates 2015' by FM CONNECT, Top 50 Fastest Emerging & Disruptive Startups 2015' by TheSMartCeo and 'One of the Top 5 Startups to Watch Out For' by NDTV