Amedia news published recently explains that India Inc's performance of Q4 in FY17 is majorly driven by cyclical sectors. The prime reason for this is due to the ever-changing business cycle which is the focal strength of cyclical sectors and also a constructive tool in analyzing the economy and making better financial decisions. But, there is a dire need for these cyclical businesses to constantly keep track of the cycles in order to grow at a profitable pace even in the macro level. Extending its arm as a consulting firm, Asia Pacific Inc (API) identifies and emends the downturns in the clients' business cycles on a day-to-day basis and also proffers end-to-end consulting & advisory services in disparate fields. "With a strong in-depth knowledge and insights about various segments of the local markets in Indian metro cities (more focused on metros in South India like Hyderabad, Bangalore, Chennai, Coimbatore, and Vizag), we do not just aid our clients until the completion of fundraising transactions but handhold them on a long-term basis attending to any emerging issue in their business cycle and resolving it on time," states Radha Krishna S, Business Head, API.

Bespoke Solutions

Maintaining nurtured relationships and excellent track records with a plethora of funders across the country and globally, API ensures to proffer fundraising solutions on a wide range of segments like debt syndication, private equity, growth capital, startup capital, trade finance, M&As and MBOs and sometimes on a blend of these too. To match the evolving trends in fundraising, it constantly updates its unparalleled expertise especially in segments like real estate, healthcare and education infrastructure and moreover outshines as a structured finance solution provider in terms of trade finance and MSMEs for businesses with sophisticated cycles.

As each company's avenues and requirements are dynamic in nature, API deeply understands their strengths, weaknesses and existing problems, and works efficiently in providing tailor-made solutions either on short-term or long-term basis which indeed exemplifies its ever-growing client base across India. Furthermore by witnessing high reluctance in procuring the right kind of human resources among majority of family run businesses in tier 2 segment, it convinces them the benefits of an adept human resource base that includes operating business smoothly, achieving the desired goals, addressing any new issues and many more, and also handholds them in the procurement process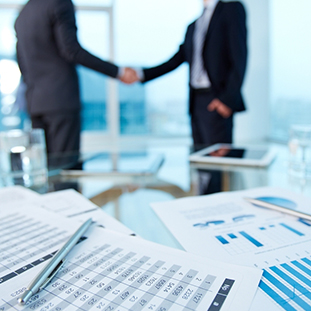 As each company's avenues and requirements are dynamic in nature, API deeply understands their strengths, weaknesses and existing problems, and works efficiently in providing tailor-made solutions either on short-term or long-term basis
Global Insights
In spite of overcoming the work culture and legal disparities while catering to the needs of global clients, API believes that the right insight into their business and requirements will be greatly sufficient to present them the best of its solutions. Radha Krishna elucidates "With 25 years of vast business experience in diversified fields, in-depth knowledge and numerous contacts worldwide, Satya Prasad (CEO, API and head of Trading & International Marketing Division) extensively helps in the acquisition of resources and global connections especially from US and Europe".
Blend of Legal & Digital Operations
Being completely against corporates that embrace tax evasion, API ensures to structure each of its financial service on par with the nuances of tax-efficient structure and sticks to a framework entailing all the requisite laws. It is evident that digitalization has transformed not just the world into a better place but eased the efficiency and effectiveness of each business process. Comprehending this fact, it deploys a variety of digitalization tools & techniques while rendering services and also encourages the clients to deploy the right kind of tools & technology and comprehensive SAT-based reporting system to ease out their day-to-day operations.
Engraved with a commendable experience in closing fundraising transactions of almost 1000+ kinds in just one and a half decade, API is well-popular for its nonpareil work in the financial services market and assures to gear up by upholding the same strategy despite the mushrooming challenges and potentials. Fathoming the dynamics in the business cycles of SMR Builders, API has helped in raising funds upto Rs.500 crore in a span of just 7-8 years and holds a track record of proffering productive fundraising services to its other clients too.

Redefining the Term 'Profit Centre'
Relying solely on its extensive network, API ensures to analyze each chunk of novel data across various segments and acquire up-to-date knowledge of the financial service industry across India via a dedicated research group. It also obtains complete insight on every new business cycle via efficient networking. Treating its 10+ employees as a profit centre, it believes that each one has the potential to independently handle any assignment and confers them equal work opportunities to grow intellectually and economically.

By raising funds upto Rs.450 crore YOY for its clients and relishing its service & growth record, API envisions to raising the funds above Rs.1000 crore in the upcoming years and focuses mainly on enriching quality and not just figures. Currently engaged in discussions with funders in Europe and US, it is on the verge of raising maiden funds to cater to the needs of real estates and technology startups and also to perform multiple kinds of M&As especially in UAE.

Key Management:

Radha Krishna S, Business Head

Being a Management specialist in the stream of Finance & Management, Radha Krishna holds 15+ years of experience in managing API and is very much appreciated for his commitment and speed in concluding various project and business transactions worldwide with prudent practices and immense satisfaction of the corporate clients.

Offerings:

Financial Services
Trading


Offices: Hyderabad (HQ) & Bangalore