Delving into the Indian telecommunication statistics as of June 2017 reveals the fact that the leading mobile telecom companies like Bharti Airtel, Vodafone and Idea have procured around 600 million Indian subscribers and the relentless growth in demand for mobile networks. To cater seamlessly to the proliferating needs of this humungous customer base, these telecom operators must ensure to implant cell towers at requisite places all around the cities. The mainstay for these telecom service providers proactively resides on obtaining the necessary permission from local authorities/municipal corporation, which usually takes longer time than expected. Besides, the study made by London School of Hygiene & Tropical Medicine in November 2017 casts light on the surge in death rates of manpower during hot weather conditions and indeed signifies the inherent risks faced by the manpower deployed for cell tower installations.

Enduring these baffling issues and evolving into a quintessence of the Telecom industry, Ace Infratech with nonpareil expertise in Engineering, Procurement and Commissioning of telecom sites proffers end-to-end telecom infrastructure (active & passive) services with turnkey solutions via efficient manpower. "Pre-eminent for the orchestration of all elements in the value chain, Ace engages round the clock in unparalleled installation and integration activities for new cell sites and high-end customization activities for the existing cell sites," elucidates K V Singh, CEO, Ace Infratech.

Cost-effective & Customized Services
Among its complete suite of telecom infrastructure services, Ace predominantly deals in proffering Turnkey Solutions Provider (TSP) services that incorporates civil, electrical and electronic installation of the telecom tower. Once the client asks for a new cell site, Ace's team proceeds with a background survey of the site, installs and syncs the essential equipment garnered from clients, like DG, battery bank, power plant/SMPS and many more in a specific environment.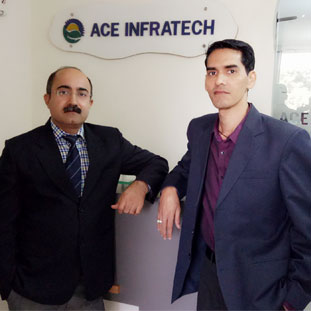 Once the infrastructure is ready, Ace also acts as an Active Service Provider (ASP) in installing the required equipment as per the active command received from its client
Furthermore, its radio team involves in equipping the site with ingenious devices like Mobile Equipment, Base Transceiver Station, Base Station Controller and Mobile Switching Center (MSC). Managing all these activities in a meticulous manner, its Project Management Team (PMT) also aligns the manpower indulged in activities like transportation, installation, commission, lifting and obtaining permission to work from civil authorities like police & MCD. While delivering these solutions, Ace's PMT ensures to customize them as per the site's location (roof top, ground & electrical pole), geographical condition and future issues by continuously monitoring the project and modifying the work strategy accordingly.
Once the infrastructure is ready, Ace also acts as an Active Service Provider (ASP) in installing the required equipment as per the active command received from its client. While ensuring the deployed mobile and radio infrastructure is working satisfactorily, RF and call monitoring needs to be taken care by the team. Problems pertaining to any call congestion are attended by them wherein they analyze the issue, change the concerned RF parameters in the cell tower and eventually send the generated reports to the client. Based on the reports received, the client alters the correct requirement of power with correct frequency in their back-end/MSC location. Moreover, ISO 9001:2015 certified Ace ensures to hire additional manpower complying to Government's employment policies in tandem with the arriving project's requirements and add up to its existing manpower resource. In a nutshell, while suggesting ace advices to its clients for both their present and future requirements, it assures to render top-notch products and scalable services with cent percent guarantee and on-time delivery. No wonder, it was bestowed as one of the 25 Most Promising Telecom Service Consultants in India during December 2016.
Besides upgrading to the latest 4G cellular technology, Ace also focuses on energy savings by deploying ventilators instead of air conditioners to maintain the temperature levels for its fleet of equipment. Having a client base that includes Airtel, Vodafone, Idea, Indus Towers, Reliance, Ericsson, Dragon Wave and many more, it assures security of critical data by not sharing it to third parties via an agreement.

Erudite Training

While recruiting manpower, Ace ensures that each aspiring individual being hired is either an ITI, diploma holder or B.Tech graduate in the stream of Electrical/Electronics, who first undergo quality/safety certification training from Karam Industries, and later training on the company's working procedures. On the other hand, freshers are trained exclusively on diverse equipment and then work under the supervision of experienced seniors. As the mechanics of cellular space get updated on par with the technological changes, Ace's existing manpower base which includes supervisors, technicians engineers and many others for outsourcing work ,are assured to cope up with these modifications, latest techniques, policies and safety guidelines employed and are monitored on a timely basis to prevent any fatal accidents on site.

Currently located at Delhi (HQ), Punjab, Haryana Gujarat UK and U.P, Ace Infratech has grown more than cent percent in its first year of establishment and envisages the same growth in the future with plans of geographical expansion and to embark on manufacturing in the telecom sector.

Key Management:
K V Singh, CEO
With an expertise in planning, engineering, managing and executing Telecom projects including installation, operation and maintenance of Telecom Systems. KV Singh have been with Indian Air Force during his early days of carrier in Telecommunication and followed by Project Management from IIT Delhi.

Offerings:


Project Management
TSP Services
COW supply and maintenance services
Customised power panel
Cell sites maintenance services
ASP Services
RF Services
Man Power Resources